Clean slate. Starting from scratch. Empty canvas. Blank paper. January.
I love that feeling. Every January, as I pack away the holiday decorations, clean up from all the celebrations and look into the year ahead, I see such wide open options. I have been making resolutions; some the same as every year (health, finances, relationships), and some new. I am finding a renewed excitement in my "hobbies" of knitting, spinning, and the like. I am now looking at options to create a revenue stream. I'm still seeking my niche.
I am also doing more experimenting with recycling and refashioning knits. This week I bought a Banana Republic men's wool sweater. The poor thing had been worn, but probably never washed. I imagine the guy that owned it saw the tag that said, "Hand Wash, Dry Flat" and decided to just donate it to the thrift store. I could see it was worth saving.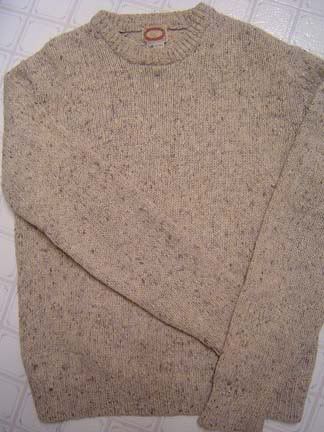 I frogged one sleeve to see how it would handle. (I had to cut off the cuff...it was just not salvageable.) It made a skein of just over 100 yards of beautiful soft wool with little slubs. The fronts and backs should yield at least another 400 yards. It would be gorgeous as is or hand dyed. The other sleeve (also sans cuff) was unseamed and then felted in the washer. It made a very soft lovely fabric. I may use it as part of a bag, or ?? The possibilities are almost endless... I love that feeling!