This is the same recovered thrift sweater yarn, dyed with Wilton Icing Color in Moss Green.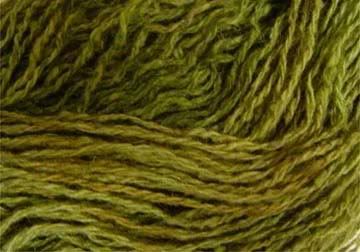 When they say concentrated, they mean it! I used less than a half-teaspoon for my pot of water, and it was
way,

WAY

,

WAY TOO MUCH

!!
I used the same microwave technique as for the Kool-Aid, with the addition of about a cup of white vinegar as mordant.
After I was certain the yarn had absorbed enough color, I rinsed, and rinsed, and rinsed, and then rinsed again. I finally had clear water and pruney fingers, but I think I am happy with the color -- a grassy-moss green. I'm considering using it for the
Green Hat Along
.
I will definitely use Wilton again...lots of fun colors you can't get with the Kool-Aid, it's safe (I have a problem with the fumes and chemicals that some dyes have), and it didn't cost a lot. Single colors were $1.69 at my local Michael's. Sets of four colors were $4.39. They also had some larger sets (12 colors).
I wanted to play with a green that wasn't the Kool-Aid apple. The Wilton Juniper Green was good, too. But I had to pick just one.