I have been reading
The Opinionated Knitter
. Every time I read or re-read anything from Elizabeth Zimmermann, I am thoroughly inspired to become a better knitter. I love her enthusiasm for the craft and her straight forward writing style. I am so glad her works live on.
For some time I have been considering making an EZ Pi Shawl. Remember
this
? Well, based on her design, it became this...
Alas, I did not have quite enough yarn to make the shawl as large as I wanted. I like the pattern, but by the time I was at 288 stitches, I was getting a bit bored with the stockinette effect and decided to add a lace stitch. I bound off with a picot edging to conserve yarn. When it was blocked, it was only about 36 inches in diameter...not really shawl size.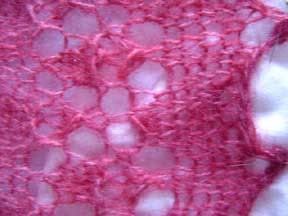 I had Kool-Aid dyed the yarn in variations in strength of Black Cherry. When worked up, I didn't really like the effect, so re-dyed the finished shawl in yet another vat of Black Cherry, this time with a slosh of white vinegar. There are still some light and dark areas, but I find these acceptable and indicative of hand-dyed garments.
Here is is all blocked and just the perfect size to be a side table tidy. Of course, it's next to my knitting chair! (The orange tone is due to the lighting.)