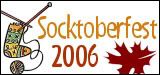 1. When did you start making socks? Did you teach yourself or were you taught by a friend or relative? or in a class?

I learned to knit from my mother at about age ten. But I knit like I cook, rarely following a recipe exactly. It didn't take long before I was making up my own designs. Socks, however, came much later...after I learned to spin (circa 1985). I taught myself the techniques in order to use some of my handspun wool for socks.


2. What was your first pair? How have they "held up" over time?

I don't remember the very first pair. I do still have an "early" pair that have been darned many times. Because the yarn was softly spun and they were of a fairly loose gauge, they wore out quickly.


3. What would you have done differently?

Tighter twist yarn, smaller needles/gauge, more shaping... But I STILL love the handspun/hand-dyed yarn!


4. What yarns have you particularly enjoyed?

I don't really have a favorite. The feel of my own handspun is comforting. The wear of some of the wool-blend yarns is good. I haven't found a cotton yarn I like for socks, yet.


5. Do you like to crochet your socks? or knit them on DPNs, 2 circulars, or using the Magic Loop method?

I still use my trusty double points. I have also used 2 circulars and enjoyed it. I may try the magic loop on my next pair. My attempts at crocheting socks are not happy memories.


6. Which kind of heel do you prefer? (flap? or short-row?)

My fall-back is still the flap. I don't mind turning the heel. For some yarns (striping, etc.), I like to use the "second toe" heel.


7. How many pairs have you made?

I lost count just before the turn of the century.


Happy Socktober, All!!